Multiple Futures and the Role of Public-Private Partnerships
---
Exploring the Child Care Crisis: Multiple Futures and the Role of Public-Private Partnerships explores the variable social dynamics and business models of our present and ongoing child care crisis through specific lenses of the future. In the brief, CPPR and Openfields developed four potential scenarios to provoke creative thinking and planning for the possible futures, and made the following conclusion:
"In the face of multiple futures, our best bet for ensuring sustainable, high-quality care for families are structured and sustained public-private partnerships. Within this ecosystem, the players must develop the relationships, policies, skills, data capabilities, and governance structure to sustain robust public-private partnerships that can move at the pace communities need."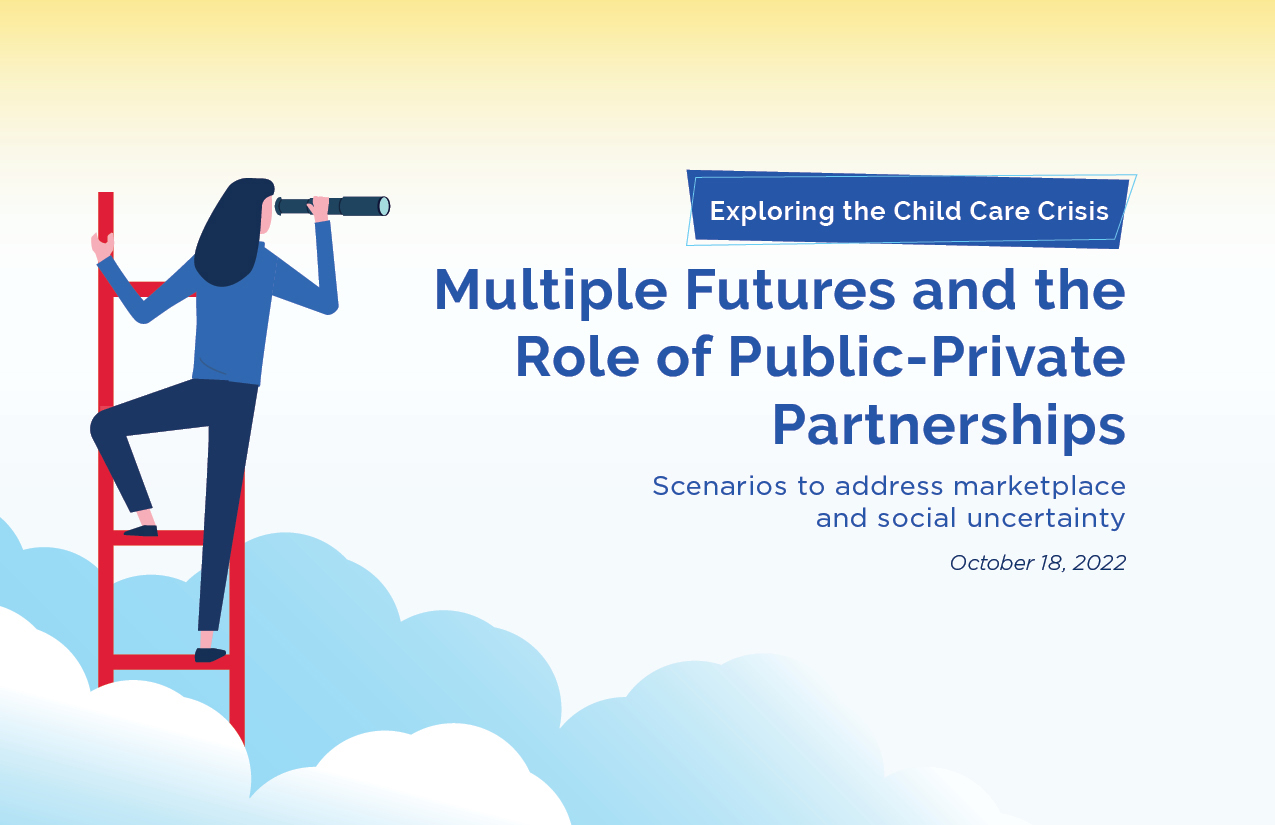 Key Takeaways
With the approach of foresight and scenario planning, the notion of the future becomes a strategic tool to anticipate where and how to prepare actions for today.
The provision of high-quality, sustainable child care services is becoming increasingly untenable with the rapid shifts created by the pandemic, which impacts multiple sectors of society.
Businesses are increasingly viewing child care provision as essential to their business model. In the article, Workforce of Tomorrow Requires a Child Care System Fit for the Future, Hau highlights that 56% of employers now offer some type of child care benefit in 2022.
In all the scenarios, public-private partnerships played a critical role and has the potential to stabilize the marketplace and help build a responsive and healthy child care ecosystem.
For transformative change to occur, consistent and scaled public investment must be coupled with a coherent vision and the authority to navigate and overcome bureaucratic challenges.
Action Items
Establish a credible, trusted entity now that can toggle public-private interests and has the authority to weigh in on public funding decisions.
Explore university research centers of other national organizations to provide the data and modeling to do the math in each of these scenarios and chart steps that we can take today.
Enable the public-private partnerships to put deals together to invest in and solve child care.