Using data as a collaborative tool for the child care crisis in Kansas
---
In the past year, CPPR has been using census data to build a collective knowledge and understanding of the child care crisis in Kansas. In addition to our prize-winning Child Care Planning Assessment Tool, our staff collaborated with the Kansas Department of Health and Environment (KDHE) and the Institute for Policy and Social Research (IPSR) to create a state map of child care deserts using the most recent available data. 
Research Project Manager Jenny Welch Buller and Associate Researcher Senior Owen Cox worked with Xan Wedel, senior research data engineer at IPSR, to create a map showing the pronounced disparity between available slots of licensed care and the number of children under the age of five in Kansas potentially needing child care services. According to IPSR, 37 percent of Kansans lived in a child care desert as of December 2021.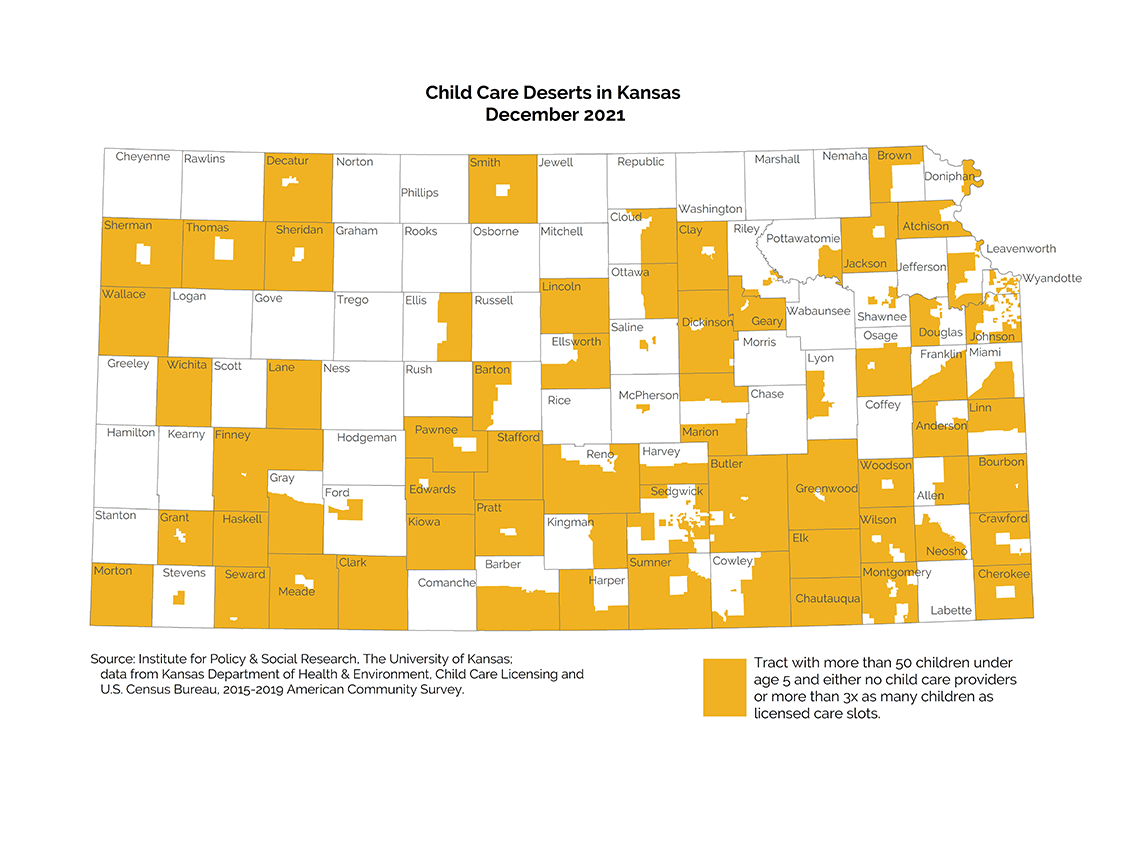 "Linking census data with state and local data provides greater insight and context to make data-driven decisions, and collaborations help leverage census data for specific tools and meaningful outcomes," said Wedel. "Bringing together IPSR's expertise on census data and CPPR's in-depth knowledge on Kansas families and children created this mapping opportunity." 
With additional support and data from Kelli Mark, KDHE bureau chief, the Child Care Desert Map was able to define a census tract with more than 50 children under the age of five and either no licensed child care providers or more than three times as many children as licensed care slots as a child care desert. The Child Care Desert map has been used by the Kansas state legislature and the Kansas Children's Cabinet and Trust Fund in their approach to grow capacity around the issue of child care in the state. The map was also featured in the CBS Evening News report "Child care costs keeping many women from returning to work" in December 2021, which according to Mark, helped to highlight that child care provider recruitment and retention is critical to the state's infrastructure and economy. 
"KDHE Child Care Licensing is deep in the work of keeping children in care healthy and safe, but it is only one piece of the puzzle," said Mark. "When it comes to large systemic issues like the child care crisis and its influence on workforce dynamics, we cannot solve these issues alone. Partners like CPPR lend us the capacity to think about and work on early childhood systems issues in Kansas." 
Researchers and staff at CPPR work to analyze and share data in compelling, accessible ways, and maps can offer a visualization of data in a context that can feel more personal. "Maps can help show, at a glance, where there are gaps, where to dig deeper for understanding, and even where to focus resources," Welch Buller said. "A map can make data come to life and feel more real, and for some people to think 'I live there, that's my community, how can I be part of the solution.' We're lucky to have great partners like Xan and Kelli to help make this happen." 
Mark agrees: "The Child Care Desert map is a valuable tool that helps us visually see the child care crisis in Kansas and works to give us more visibility and understanding of the issue. Data visualization such as this map allows us to gain insight into our vast amounts of data, helps us recognize patterns in the data, and highlights data in greater context to share with partners and the public. It is so valuable to collaborate, and I am incredibly grateful for the amazing partnership and collaboration with our university partners, other state agencies, community organizations, and early care and education professionals to make this tool work for progress in Kansas." 
CPPR recognizes how accurate data collection and the implementation of data tools can lead to targeted strategies and opportunities for communities and researchers to connect. To meet the needs of children and families in Kansas, a responsive data practice and sharing between state agencies and organizations leads to collaborations like the Child Care Desert Map, and can further the conversation of how to ensure access to child care for Kansan families.
CPPR is a committed partner to communities and organizations in finding resources and solutions. To learn more about CPPR's collaborations in the child care crisis and to see how child care impacts workforce participation, visit top.kucppr.org.